1.
HOME
In a nutshell -- the water-electricity nexus:
"In-Line Turbine":

Low-Head

Micro Hydro.
High power
in small size,< 2 ft2 footprint.
Personalizes setting up --> electricity
Portable.
Adapt fast. Modular scale-up.
Easy, with OR w/o prior infrastructure.
Do you have stored or flowing water with
adequate volume, head or velocity?
"Harvesting electricity--from untapped water resources.

"sm
__________________________
Unparalleled FLEXIBILITY of HydroCoil turbines:
Install IN or OUT of the water.
RETROFIT, or for new locations:
wwtp's, irrigation, fish farms, industry, LEED bldgs.
DISASTER Preparedness

&
EMERGENCY Management
.
Scott Sklar of SolarSklar, energy consultant in Washington, D.C.--
--"HydroCoil turbines are terrific, terrific for hydro renewables worldwide--Africa, Asia, wherever..." (oct.2014)
--"I need HydroCoil turbines for our fish farms"
--"How many of your turbines for a power generation plant on a river here?"
--"Send me HydroCoil turbines for the water effluent from thermal electric plants"
--"would like to become a distributor in Southeast Asia"
Jim in Washington, D.C.--
--"

HydroCoil looks good for installing at fish farms project

"
Jack in the Netherlands--
--"propose adapting your turbines for boat canals"
--"How many HydroCoil turbines and how much electricity for a water treatment plant?"
--"to use for tidal flow and for lobster ponds"
--"can our company be a distributor for HydroCoil in China?"
DEMONSTRATED.
PROVEN FUNCTION & OUTPUT.

3 NEW PATENTS since April 2012,
4 BASIC DESIGN configurations,
& PATENT PROTECTION into year 2028.

#8,148,839 reg. USPTO, issued April 3, 2012
#8,350,400 reg. USPTO, issued January 8, 2013
#8,546,969 reg. USPTO, issued October 1, 2013.
Visit
www.hydrocoil.com
for more applications and for global market opportunities..
Low head micro hydro--with the HydroCoil [R] turbine.
Generate h

igh-power from a small package.

Multiple patents--domestic & international.

Designed by HydroCoil Power, Inc. for untapped flowing water,

Reasonable cost--mostly injection-molded parts, low cost installation

High utilization percentage, shorter payback.

Don't overlook sites with under-utilized existing infrastructure.
Such as:
water treatment plants, tall buildings

, industrial processes,

irrigation systems, canals, run-of-river, storm runoff, water conduits.

emergency response--to lack of electricity, help by adapting flowing water for disaster management. Go to

www.hydrocoil.com

. Contact us with your inquiries and comments.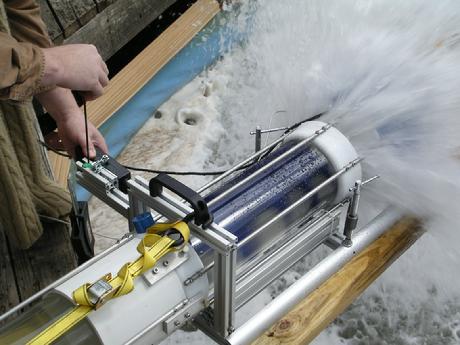 Water enters through short white collar directly in front of spinning blue helix
MICRO HYDRO Turbines for the 21st Century



The HydroCoil Turbine



Unique technology for global needs.
Low cost Manufacturing & Assembly methods.
Tested and Certified.
Generate more renewable energy into the grid, or for water-to-wire distributed power for local use !
--Urban or Rural installation--

Including pipes & water stacks inside buildings.
--Municipal, civilian, industrial sites.
--Scalable in modules, Adaptable in clusters (see p. 3):
facilitates

ease and speed of installation

.
--Small enough to carry yet nearly 2 kW per 6" diameter turbine.

By HydroCoilPower.

( See p. 4 --> "

Applications & Benefits

")
HOW?
Ideas generate hypotheses. Followed by modeling & bench testing. DATA.
Confirm or modify hypothesis based on evidence.
Refined & combined DESIGN advances.
Final stage of updates & outdoor testing provided more data & electricity.
ANALYSIS: HydroCoil turbine achieved performance & efficiency beyond expectations.
MARKETS & APPLICATIONS: see details that follow.
The logo for HydroCoilPower , Inc. symbolizes a coil rotating around the central arrow that represents water and energy.

Website most recent update: January 13, 2015
The HydroCoil inventions and technology depicted herein are protected under patents registered USPTO #6,357,997 ; #6,626,638 ; #8,148,839 ; #8,350,400; and #8,546,969. + patents issued overseas.
HydroCoil [R] is a registered trademark owned by HydroCoil Power, Inc. Marque de'pose'e de HydroCoil Power, Inc. "Harvesting electricity--from untapped water resources." is a service mark of HydroCoil Power, Inc.

Photos, video, slides and text, copyright 2010 - 2014, HydroCoil Power, Inc. All rights reserved. May not be used without express written permission.
News media identifiers or titles are copyright per those organizations.

Note: HydroCoil turbine information on YouTube[R] from prior years is out-of-date.

Trade shows, publications, business practices, client contacts, agency intercession, and patent applications will be monitored. Any infringement on our issued patents, proprietary information, or previously established contacts will be vigorously pursued by all available remedies.
Website powered by Network Solutions®