"Low cost, easily accessible energy
from untapped micro hydro electric
opportunities."
___________________________
Unparalleled FLEXIBILITY of HydroCoil turbines:
Install IN or OUT of the water.
RETROFIT to existing structures.
TRANSPORTABLE for EMERGENCY MANAGEMENT.
DEMONSTRATED.
PROVEN FUNCTION & OUTPUT.

3 NEW PATENTS since April 2012,
4 BASIC DESIGN configurations,
& PATENT PROTECTION into year 2028.

#8,148,839 reg. USPTO, issued April 3, 2012
#8,350,400 reg. USPTO, issued January 8, 2013
+ new patent pending, allowed May 30, 2013.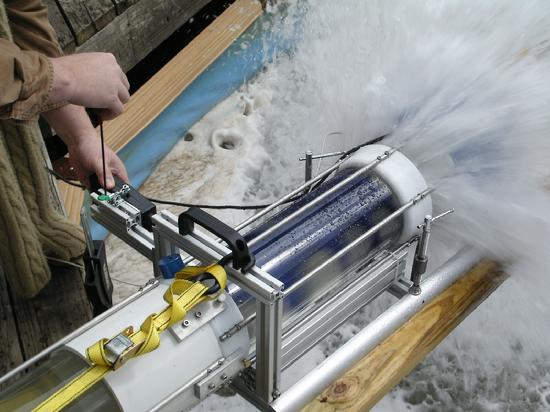 Water enters through short white collar directly in front of spinning blue helix
MICRO HYDRO Turbines for the 21st Century



The HydroCoil Turbine



Unique technology.

Injection molded

.

Portable

.
Renewable Energy.
Generate electricity from untapped flowing water sources.
Including inside pipes in buildings.

Urban or Rural installation. Municipal, civilian, or military.
Use

existing

low head

and

moderate head

infrastructures.

Scalable in modules, Adaptable in clusters (see p. 5):
facilitates

ease and speed of installation

.

Small enough to carry yet nearly 2 kW per 6" turbine.
Power in micro hydro. By HydroCoilPower.
Tested and Certified.

Low cost Manufacturing & Assembly methods shorten payback.
( See p. 4 --> "

Uses. Features. Benefits

.")
The logo for HydroCoilPower , Inc. symbolizes a coil rotating around the central arrow that represents water and energy.

Website most recent update: April 18, 2013
The HydroCoil inventions and technology depicted herein are protected under patents registered USPTO #6,357,997 ; #6,626,638 ; #8,148,839 ; and #8,350,400; patents issued overseas; and patents pending. HydroCoil [R] is a registered trademark owned by HydroCoil Power, Inc. Marque de'pose'e de HydroCoil Power, Inc.

Photos, video, slides and text, copyright 2010 - 2013, HydroCoil Power, Inc. All rights reserved. May not be used without express permission.
News media identifiers or titles are copyright per those organizations.

Note: Any HydroCoil turbine information on YouTube[R] from prior years was NOT submitted by HydroCoil Power. Any such materials are long out-of-date.

Trade shows, publications, business practices, client contacts, agency intercession, and patent applications will be monitored. Any infringement on our issued patents, proprietary information, or previously established contacts will be vigorously pursued by all available remedies.
Website powered by Network Solutions®